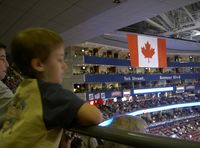 I went to Air Canada Centre waching a Toronto Raptors's game today. It was beautiful sunny day even though it's chilly.
We supposed to meet at Union sta. noon. But my friend didn't show up. He was waiting in VIA's Union station. OMG!! After we met then went to ACC. It was first time to go there for us.
The game started on time. We bet which team gonna win before start the game. Of course I bet to win Raptors! It's including my wish...ha-ha. 1 game is devided 4 quarters. Each quarter have 12 min. I excited the game! I really feel atomosphere. They looded like enjoy it each of them.
Finally Raptors BEAT Nicks!!
They lost 2games before. It was really important game cuz if they won that game they kept win 6games! Beginning of the season Raptors was close to the bottom...
Anyways, I'm happy to watch winning game!
Toronto Raptors